Serving Greater Williamsburg, VA
Sod Lawn Installation in Williamsburg, VA
When it comes to your Williamsburg, VA home or business, you really only get one chance to make a good first impression. And nothing adds to a property's curb appeal like a beautifully landscaped lawn. Whether you're looking to improve your lawn or replace weed-infested grass, sod is a solid investment for residential and commercial property owners across Williamsburg, VA. And at A Plus Landscaping, LLC, we provide sod lawn services to clients looking to enhance their outdoor spaces.
Making Your Lawn Beautiful
At A Plus Landscaping, LLC, we understand that a great lawn is a hard thing to achieve. That's why we take a thorough, meticulous approach to our sod lawn services. Our skilled installers do more than just lay sod; they take the time to teach clients like you how to maintain this valuable investment. And because we value our customers, we keep our rates reasonable without skimping on quality.
Treat yourself to a brand new lawn that will be the envy of those around you. Call us today for more information or to schedule an estimate.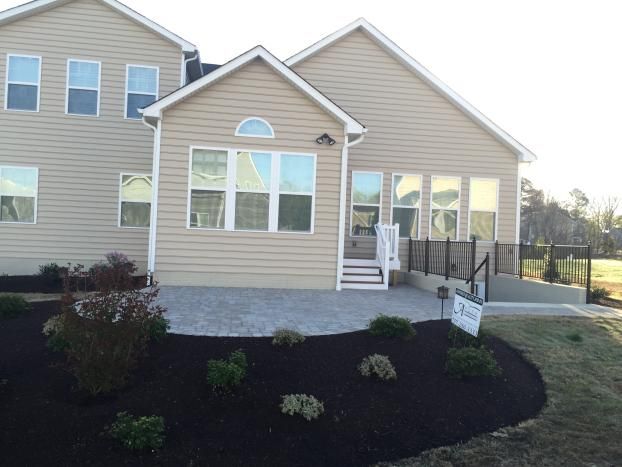 It was an honor to work with this family. We appreciated the opportunity to complete this beautiful back patio area.
A Plus has been maintaining my home and three commercial businesses for years. I can always count on Anthony (owner) to listen to my needs, design an affordable solution and deliver excellent results with Integrity.

- Charlie Marcotte. 10/25/2018

I've used Anthony and A Plus since we moved to Williamsburg 3 years ago. He has built a backyard patio, installed irrigation (yard and garden), installed underground drainage pipes from gutters to street and added extensive landscaping. He also handles all my yard and garden maintenance. The company is extremely easy to work with and I have found all their work to be exceptional. His crews are hard-working, friendly and pay attention to the small details. And when there are issues such as plants that did not do well, he addresses them promptly and always to our satisfaction. Anthony is also a go to guy for recommendations on other local companies for home maintenance or improvement. Never been disappointed by any of his recommendations. Definitely the best landscaping business that I've used in the last 20 years.

- Jim Crowley. 10/24/2017

A Plus Landscaping is the best. A Plus is always professional, it is a pleasure working with them.

- Melissa Sabb. 8/22/2017

They do all the landscaping at my work place,THE BEST I HAVE SEEN!!!!!

- Steven Spiridigliozzi. 6/29/2016

A Plus Landscaping is a very professional and responsive business. They are taking great care of American Pride Automotive Williamsburg landscaping and we receive many complements on how nice and professional our landscaping looks. I had noticed that we had a sprinkler system leak and the owner (Anthony) was out within an hour to shut off the water and had one of his guys out that evening to repair the leak. Top notch business!

I recently bought my house and the landscaping was pretty bad, such a beautiful house can be seen less than when the landscaping isn't done. I called around and did my research. I called A plus landscaping and I couldn't believe how much the other companies were quoting me in comparison to A plus landscaping. The owner gave me a quote, he realized that he over quoted me (once the job was done) not only did he tell me he over quoted me he gave me money back. He called me and let me know as soon the job was done and to call him if I had any questions or concerns. When I got home I couldn't believe the difference. I had to back out of my driveway and make sure I was in the correct house. I recommend A plus landscaping to anyone and everyone, There work is top notch! The owner does all estimates him self and he will not over sell you, he's only going to sell you what you need. If you aren't calling A Plus Landscaping for a quote you are doing your landscaping a disservice.